Monocopters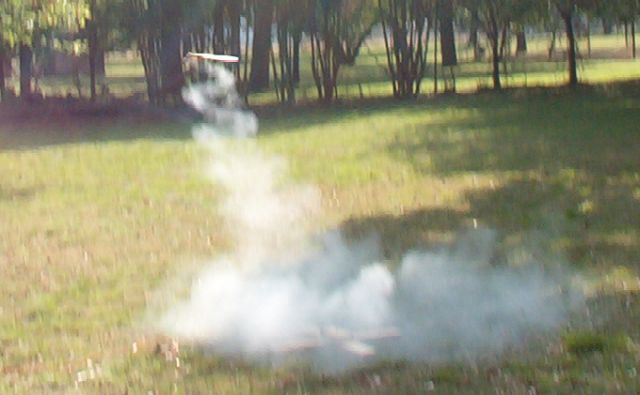 The Dragonfly in action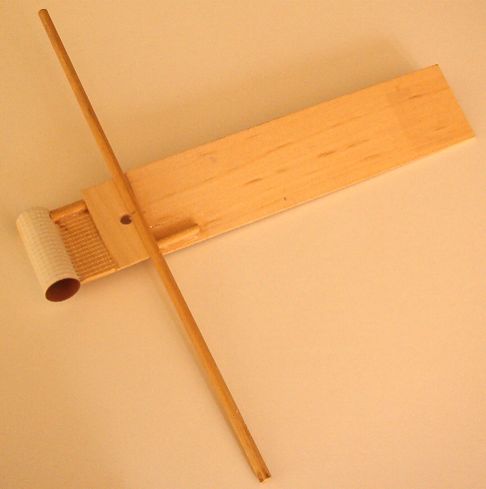 18mm Dragonfly Monocopter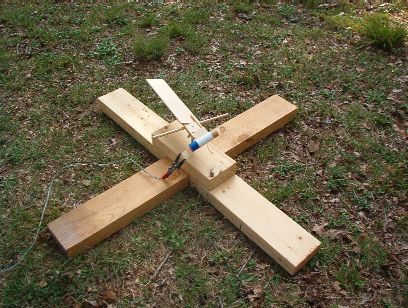 Dragonfly set to take off
---
These monocopter kits take model rocketry in a new direction, a tight, skyward spiral. They leap off the launch pad with a loud growl and tears into the sky leaving a unique, corkscrew smoke trail. At apogee they hover for several seconds then flutters gently to the ground. Unlike conventional rockets, they fly better on windy days. They will land close to the launch pad under all flying conditions and are nearly impossible to get stuck in trees or power lines.
Each kit is constructed from the highest quality
Basswood
sheets, Poplar dowels and
LOC Precision
tubing. Their simple and robust construction mean they will continue to fly long after other rockets have been retired.
Each kit comes with all materials except glue. A kit can be built in a single evening using ordinary craft tools and supplies. These kits are recommended for experienced modelers who will appreciate their unusual construction techniques and flight characteristics. These monocopters require a
strong launch pad
with a short 1/4" rod. Instructions for building a suitable pad out of readily available materials are included with the kit and also
shown below
.
24mm Whirlwind Monocopter
Specifications: Wing Span: 10 inches, Weight: 1.5 oz (42 grams)
Recommended Motors: D11-P, D12-0, D12-3, E9-P, E9-4, Apogee E6-P & E6-4
18mm Hornet Monocopter
Specifications: Wing Span: 6 inches, Weight 0.8 oz (22 grams)
Recommended Motors: C6-0, C6-3
This rocket is similar to the Dragonfly but has a more aggressive flight profile and is optomized to fly on Estes C6-3 motors.
18mm Dragonfly Monocopter
Specifications: Wing span: 8 inches, Weight: 0.9 oz (23 grams)
The recommended motors are: A8-3, B4-2, B6-0, B6-2, C6-0 & C6-3. The expected altitude on a C6-3 motor is 60 feet.
13mm Bumble Bee Monocopter
Specification: Wing span: 3 inches, Weight: 0.5 oz (12 grams)
Recommended Motors: 1/2A3-2T, A10-0T, A10-3T, A10-PT. Expected altitude with an A10-3T motor is 50 feet.
13mm Popsicle Monocopter Free Download
Wing Span 4.5 inches, Weight – 0.2 oz (5 gm) - Recommended motor: 1/2A3-2T, A3-4T, A10-PT, A10-3T
Monocopter
Launch Pad
s
1/4"
Monocopter Launch Pad
Sturdy pressure-treated wood construction with zinc-plated hardware. Highly resistant to harsh weather and rocket exhaust. Easily adjusts for different size rockets. Folds up compactly for transport. Suitable for all Art Applewhite Rockets 13 mm through 24 mm Monocopter,
Helix
,
Double Helix
and
Crossfire
kits.
Plans for DIY Monocopter Launch Pad
A monocopter launch pad should be sturdy and fixed firmly to the ground. Never try to launch a monocopter from a long rod on a standard launch pad. A suitable launch pad can be constructed from the following materials:
4 - 2x4s, three, 18 inches long and 1 - 2x4, 36 inches long. The lengths need not be exact.
1 - 3 inch long, ¼-20 carriage bolt and 3 nuts
6 -3 inch long wood screws.
Drill a 1/4" hole in the middle of one of the short 2x4s. Insert the carriage bolt into the hole and secure it tightly with one of the nuts. Attach the long 2x4, perpendicular to bottom of the short one with two wood screws. Attach the two remaining short 2x4s to the opposite ends of bottom of the first short 2x4 with two wood screws each. Thread the two remaining nuts on the bolt and use them to adjust the height of the rocket above the pad.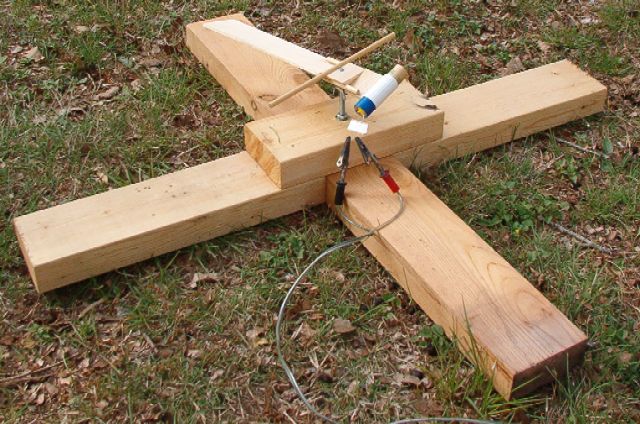 A Dragonfly on a monocopter launch pad
Note: Copying, Downsizing, Upsizing or any other unauthorized reproduction or alteration of any of the designs on this web site is a copyright infringement and is both illegal and immoral and will not be tolerated.